BECOME A PRINT BAR AFFILIATE
We are excited to become your favorite place to shop! We are seasoned boutique shoppers, graphic designers and business owners and we love being able to see your dream turn into a reality.  If you love clothing or love to design and create t-shirts, we are a one stop shop for both.  Shop all of our predesigned t-shirts and accessories or bring your ideas to life. On top of that, we have a HUGE selection of boutique clothing as well.
We are very excited to bring you most of our styles in sizes XS through 5XL. Our goal is to offer the most fashion forward pieces for women of all shapes and sizes. We want to make online shopping enjoyable for everyone, no matter your size, shape, or style.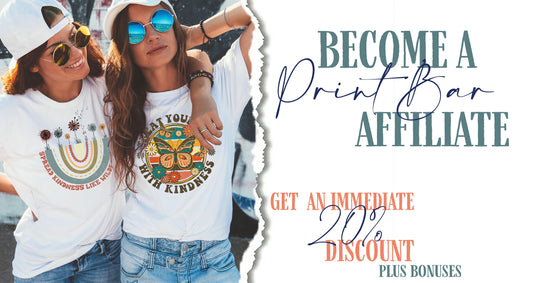 DESIGN YOUR OWN
Bring your ideas to life! Upload your own designs on any of our apparel or accessories. You can also take any of our premade designs and put them on any other product. Need assistance? We have a design team that will assist you with your design.
GET PAID
You receive your own personalized URL to share! The more you sales you generate, the more you earn. Get paid a minimum of 20% commission for every sale you make. This included personal purchases! Unlock an addition 5-8%, too! Get paid every Friday via Venmo, Store Credit, or PayPal.
EARN BONUSES
In addition to the 20% commission, earn an additional 5-8% weekly commissions, downline commisions, affiliate challenges and giveaways, free products, and so much more!
PERSONAL DISCOUNT
There is nothing better getting paid on your personal purchases! All affiliates receive 20-28% commission on personal orders. Percentage is calculated based on rank.
MARKETING
We offer recources in your back office to assist you with marketing our products. We have social media assets as well as blank mockups to advertise your own graphics!
IN WITH THE NEW
The Print Bar releases new items every day Monday-Friday! Make sure you are subscribed to our Facebook page to get the latest updates!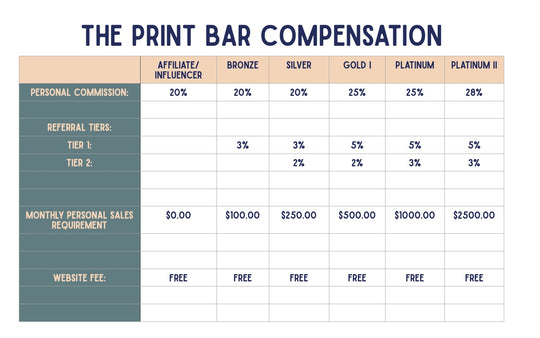 Being a Print Bar Affiliate is completely FREE!
There are no sales requirements and no inventory necessary. You can use our affiliate program as drop ship or you can carry inventoy if you choose.
We pay every Friday via Venmo, Paypal or store credits.
Our comp plan offers the option to build a team to earn extra commissions or you can simply sign up for the discount.
No worries! We have a design team that can take your dreams and turn them into reality. Simply message the design team with your idea and they will turn it into a graphic. **Fees do apply